S-Word is a Japanese rapper and appeared exclusively in the Japan version of Def Jam Vendetta.
Biography
Raised In Kumamoto Area the now Tokyo based rapper S-Word first emerged as a part of the legendary K.O.D.P. (King Of Diggin aka Muro Productions) after handling the job of a sales clerk at DJ Muro's own hip-hop shop Savage down at Shibuya, Tokyo in the later half of 1990's. Influenced By DJ Muro and fellow sales clerk at the time by the name of GORE-TEX, S-Word discovered his passion for rhyming shortly after and started performing alongside the members of K.O.D.P. in various underground clubs at the time such as the legendary club citta in kawasaki. While Polishing his skills with long term friends Macka-Chin and Gore-Tex (latter who had already got a name for himself on the scene thru Muro's "Young Talent Program") it was time for Muro's new single which was also to become S-Word's record debut in the year 1998.
Def Jam Vendetta
In the Japanese version of Story mode, in place of Capone, you'll fight S-Word after defeating Keith Murray in the The Def Jam Tournament.
Gallery
Video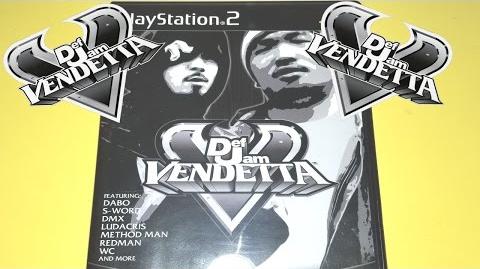 Trivia
S-Word is one of two fighters exclusive to the Japan version of Def Jam Vendetta, the other is Dabo.
S-Word's song "Kross Over" is featured in the Def Jam Vendetta soundtrack.