"Ey yo thunn! The word is out, you about to lose!"
—Prodigy
Prodigy is a featured fighter in Def Jam series and is a playable character in Def Jam: Fight For NY and Def Jam Fight for NY: The Takeover.
Biography
Amid the burgeoning mid-'90s hardcore rap scene, the Queensbridge duo Mobb Deep towered over their peers. They were instantly canonized for their influential album called The Infamous. This duo consisted of Prodigy and Havoc. Initially they began as just another hardcore rap act, as shown on their debut album, Juvenile Hell. Their breakthrough album came in 1995. It became a touchstone album among the hardcore rap community, driven by the song "Shook Ones, Pt. 2," a time-tested anthem. Mobb Deep became known from coast to coast for its hellishly lyrical depiction of New York street life in Queensbridge, the rough housing project the duo called home. Mobb Deep's production and musical style also became widely known. The driving, haunting melodies and hard-hitting beats, coupled with the bleak aural equivalent of the duo's sullen rhymes set them far apart from the crowd. By the end of the decade, Mobb Deep's Murda Muzik debuted at No. 3 on the Billboard album chart, showing how far the duo had come without compromising their harsh approach.
Def Jam Fight For NY
Watch for Prodigy in the Heights, in Lefrak City. Hero will defend the club from him after defeating Dan G, Bo, and Elephant Man. He is also seen towards the end, ready to do battle with D-Mob's Crew.
Quotes
"I told you couldn't hang with me. I told you. - Victory Outro
"Yeah, who want some of this? Who want some of this?"
"Where you going!?"
"Here we go again!"
"That right dunn, how you like me now."
Gallery
Video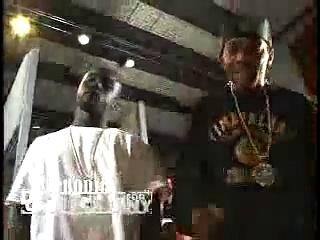 Trivia
Prodigy's blazin move is a reference to Mobb Deep's 3rd album of the same name, as well as their hit single "Front Lines (Hell on Earth)".
Prodigy was actually raised in LeFrak.
The real life Prodigy died June 20, 2017 at the age of 42, in Las Vegas, Nevada as a result of accidental choking. Prodigy's death marks the 2nd death in the Def Jam series, after Chris Lighty.
Despite being raised in Queens, Prodigy is a member of The Dragon House Crew.
Prodigy starred in the film "Full Clip" which co-starred Busta Rhymes and Xzibit.